Prepare your snacks, take refuge in your comfiest seat and switch your browser over to New Japan World as this Sunday one of the most stacked wrestling card's you're ever likely to see is taking place, NJPW's Dominion.
Last year at the event we saw Kazuchika Okada defeat Tetsuya Naito to reclaim his IWGP Heavyweight Championship, and they year before that, he defeated AJ Styles in the main event in order to win the same strap. Okada is rightfully main eventing against but this time he faces what I believe to be his toughest test yet, Kenny Omega.
More on that later though, as there is a whole card of pro-wrestling delight available for your viewing pleasure on Sunday, so let's jump right in.
Hiroyoshi Tenzan, Jushin Thunder Liger, Manabu Nakanishi and Satoshi Kojima vs. Tiger Mask, Tiger Mask W, Togi Makabe and Yuji Nagata
The main card begins with an 8-man that should warm your platter. It's a bit like the small basket of bread you get at restaurants; you are happy to nibble on it but you know your bigger, better main course is just around the corner.
Those familiar with New Japan will know exactly what to expect here, it'll be a standard solid tag match and everyone will get some shit in before the finish. There not really much for me to say about this one but given that Tiger Mask W has been heavily rumoured to be entering the G1 (which officially starts on July 17th) I would imagine that he will take home a victory here.
All in all, it wouldn't be a disaster if you woke up late and missed this one but it'll be a fun match nonetheless.
Predicted Winner: Tiger Mask, Tiger Mask W, Togi Makabe and Yuji Nagata
Los Ingobernables de Japon (BUSHI, EVIL and SANADA) (c) vs. Bullet Club (Bad Luck Fale, Hangman Page and Yujiro Takahashi) vs. CHAOS (Tomohiro Ishii, Toru Yano and YOSHI-HASHI) vs. Suzuki-Gun (Taichi, Yoshinobu Kanemaru and Zack Sabre Jr.) vs. Taguchi Japan (Juice Robinson, Ricochet and Ryusuke Taguchi) – Gauntlet Match for the NEVER Openweight 6-Man Tag Team Championship
Wow, that title was a mouthful. Following the Gauntlet match for the same championship at Wrestle Kingdom back in January, New Japan have decided to host another, this time the team who won the original match are defending their straps.
The last match was far better than I anticipated but this certainly stinks of, 'how do we get everyone on the card?' With talents such as SANADA, BUSHI, Ishii, Zack sabre and Ricochet in there the gauntlet is sure to have some really great moments but I'd be lying if this was one of the matches I was super hyped for.
If I had to call it I would say Los Ingobernables will make it through Bullet Club and Suzuki-Gun before coming unstuck against Taguchi Japan due to their fatigue late in the contest, also, I feel Taguchi Japan having the belts will add to another member of the factions celebrating further through the show, but more on that to come…
Predicted Winner: Taguchi Japan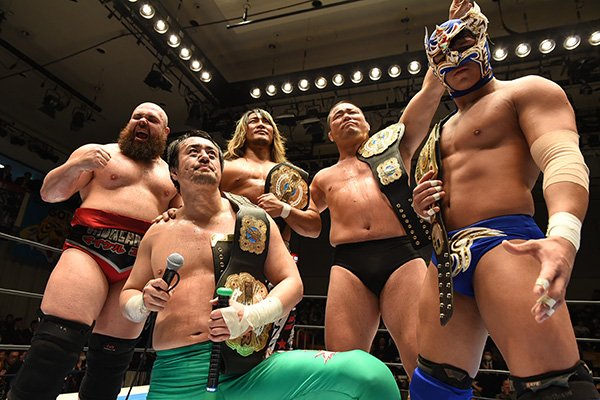 Roppongi Vice (Trent Baretta and Rocky Romero) (c) vs. The Young Bucks (Matt Jackson and Nick Jackson) – IWGP Junior Heavyweight Tag Team Championship Match
The first of 5(!) Wrestle Kingdom 11 rematches taking place on June 11th. Roppongi Vice are in their 4th reign as Junior tag champs having lost and reclaimed the belts to Suzuki-Gun in Spring, whilst the Young Bucks are returning to New Japan for the first time in a while and will likely be at ringside during the main event of the evening too.
The Junior tag division is really floundering at the moment, there's zero depth in talent pool and injection of new life is desperately needed. I really like both Roppongi and the Bucks but it does get a little tiresome seeing them play pass the parcel with the titles all the time. Personally, I loved the tag team of ACH and Ishimori and wish they would become a mainstay in the division and have a title run, just to see something new.
That said, the match will likely be superb. Expect fluid flips, high spots and dives galore as the two teams know each other extremely well and have collided a number of times. There's unlikely to be much of a story running throughout the action but if you like insanely athletic wrestling then this is one for you.
Predicted Winner: Roppongi Vice
War Machine (Hanson and Raymond Rowe) (c) vs. Guerrillas of Destiny (Tama Tonga and Tanga Roa) – IWGP Tag Team Championship Match
War Machine have been on a decent tear since crossing the pond to Japan and it's no surprise really, they fit the powerful, big-guy mould that New Japan fans love.
Having pinned TenCozy at Sakura Genesis to begin their first ever IWGP tag title reign, they then successfully defended their belts by pinning Tenzan in a triple threat tag match, much to the distain of fellow competitors, the Guerrillas of Destiny. Tama Tonga and Tanga Roa attacked the champion after said match, which prompted War Machine to challenge G.O.D to a face-to-face confrontation and thus, the Dominion tag match was announced.
G.O.D are so much better than they were a year ago so I'm very excited for this match. All four guys can really go and the power spots will be lathered all over the ring, so expect strong reactions from the crowd to all of those. Plus, whilst Hanson, Rowe and Roa are big hosses, they really can shift and will easily keep up with Tonga, who will surely be the wildcard in this match as his speed and precision could spell disaster for War Machine.
Though War Machine are really great I'm going to expect the Bullet Club boys to reclaim the titles and parade them around during the G1, with Tonga getting the pin. War Machine will be back though and already seem like a great shout to win the World Tag League, which occurs towards the back-end of the year.
Predicted Winner: Guerrillas of Destiny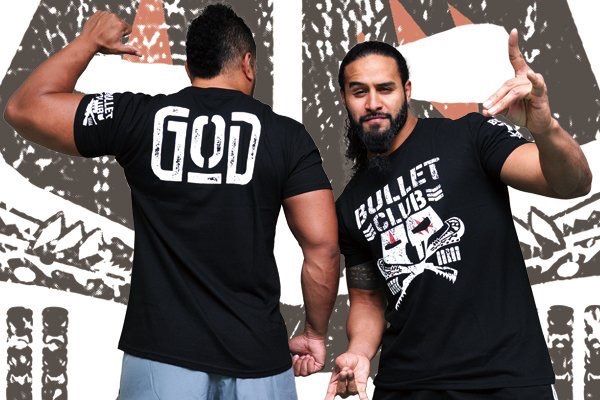 Cody vs. Michael Elgin
Michael Elgin is back babyyyyyy! Good lord he's so good and in the past year has turned me into a super-fan of his. Earlier this year he had a barn burning match and very nearly captured the Intercontinental Championship from Naito and now he has the chance to add another high-profile name to his victory resume, in the form of the American Nightmare, Cody.
After arriving in New Japan on January 4th Cody has been a part of many Bullet Club tag matches and most importantly, has secured singles victories over both Juice Robinson and David Finlay. Cody big bollocks took these wins as an opportunity to challenge NJPW to find him a tougher opponent, so they did, and big Mike will attempt to make Cody eat his worlds.
As for the match itself; I reckon Elgin will dominate a large portion proceedings and showing off to the fans with his impressive strength and vertical delayed suplexes before Cody manages to somehow pull a win out of the bag following a Elgin mistake. Maybe the big man will crash and burn following a top rope splash or maybe Cody will cheat the win with some shenanigans, but either way, I see Mr. Rhodes coming out the victor here.
Both should be in the G1 so it is likely that whichever of the pair takes it down, the other will win the return match, them being in the same block permitting.
Predicted Winner: Cody
Hiromu Takahashi (c) vs. KUSHIDA – IWGP Junior Heavyweight Championship Match
Unless you've been under a wrestling rock for the past month or so, you'll know that KUSHIDA is now a 2-time Best of the Super Juniors trophy winner having defeated Will Ospreay in a truly excellent final. The killed each other for half an hour before KUSHIDA broke out his new Back to the Future finisher to complete his redemption song.
The former title holder has been experiencing the worst months of his career in 2017 as he was beaten at Wrestle Kingdom and never got close to getting his strap back; with the worst of his losses coming in under 2 minutes against Hiromu. But he has earnt his final swing at the champion, much to the displeasure of Takahashi.
Hiromu (of Los Ingobernables de Japon) on the other hand has had arguably the best year anybody could ask for. His eccentricities have captivated fans and he loves his belt for than I love a good beer; but not only that, in the ring he has been dominant over all that have come before him. I've already mentioned his sub 2 minute win over KUSHIDA, but he has already defeated Ricochet, Taguchi and Dragon Lee in his inaugural reign and is already aligning the stars to become one of the finest Junior stars we have ever seen.
I expect nothing less than a beautiful car crash from these two, they really, really hate on another and will risk it all to stand tall following the carnage. Hiromu is a daredevil in the squared circle so you'll be sure to see his apron sunset flip powerbomb, diving senton to the outside and maybe even a bloody Canadian destroyer! KUSHIDA on the other will look to slow the pace with his superior submission game but that hasn't proved effective so far against Takahashi, so good luck to him on that front.
KUSHDIA is likely regaining the Junior belt here in order to give a feel-good ending to his rise back to the top but a potential Hiromu win has me very intrigued. Should he defeat his rival again he would be undeniably one of the most dominant champions the NJPW have ever seen and it could blast him even further than his current stratospheric heights.
Predicted Winner: KUSHIDA
Minoru Suzuki (c) vs. Hirooki Goto – Lumberjack Deathmatch for the NEVER Openweight Championship
Lumberjack Deathmatch?! Sounds like a recipe for bloody violence and disaster, doesn't it? Well, if that's what you're into, don't get your hopes up too much. There will likely be a small amount of weapons in play but not a massive amount; the more interesting part about the match is the lumberjacks as the ring will be surrounded by CHAOS and Suzuki-Gun wrestlers, all ready to get in a scrap.
El Desperado helped Suzuki wins the NEVER Openweight belt under very dubious circumstances and Goto repeatedly requested a refund after his loss. Suzuki then, being the mad bastard he is, challenged Goto and the entire CHAOS gang, erupting the sides into all-out war.
I would personally prefer to see this without the interference in a straight shooting singles match as I rate both of these men incredibly highly, they are both a sight to behold when they're on song. But hey, this should be frantic fun and definitely will be a fresh matchup following a few non-stipulation matches in a row. And I'll go Suzuki to retain, if only because I have no idea what to expect from these crazy rules.
Predicted Winner: Minoru Suzuki
Tetsuya Naito (c) vs. Hiroshi Tanahashi – IWGP Intercontinental Championship Match
The first of 2 absolutely giant Wrestle Kingdom 11 main events see Los Ingobernables leader Tetsuya Naito come face to face with Hiroshi Tanahashi once again. Having defended his belt successfully against both Michael Elgin and Juice Robinson, Naito was riding high, though people were happy with his disrespectful treatment of the Intercontinental Championship.
Naito's actions towards the belt got even more aggressive following New Japan's introduction of the new IWGP United States Heavyweight Championship; he proclaimed that his Intercontinental it represented the same as his belt, making his title worse less than a ¥10 coin. Having become so disgruntled with the situation, he claims that if he wins at Dominion, he will vacate the 'worthless' championship.
Who else to step up and save the championship, than New Japan's ace in the hole, Hiroshi Tanahashi. Initially Naito turned down Tana's challenge but after seeing the belt's peril increase to the point where it had actually been smashed, New Japan made the match official, and the floundering ace has chance to get back to the pinnace as, despite this being his return after injury, he feels his is fully ready to dethrone Naito.
I don't need to tell you that 2 of the best wrestlers in the world are likely to put on a technical masterclass, because I'm damn sure they will, but instead, I will look more towards the potential result.
Based on the entire build you'd have to say that Tanahashi is the favourite; he's going to be the friend the IC belt needs and finally claw it away from Tetsuya's nasty grasp, with them potentially presenting him with a brand-new, squeaky-clean, non-smashed title belt upon getting the 3 count. My only doubt comes in the fact that Naito may win the match and vacate the belt a dominant, undefeated champion. Either way, this would then make Naito a shoo-in for winning August's G1 Climax, propelling him into the Wrestle Kingdom 12 main event.
Predicted Winner: Hiroshi Tanahashi
Kazuchika Okada (c) vs. Kenny Omega – IWGP Heavyweight Championship Match
Never before in my life have I been so excited for a pro-wrestling match. Okada v Omega at Wrestle Kingdom 11 was without a doubt my personal favourite wrestling match ever, and as much as I would love them to, I don't think they, or anyone else for that matter, will top it. It's basically ruined wrestling for me because I'm sad that I'll likely never see another match that amazing again. After all, it got 6 fucking stars.
So how did we arrive at this rematch? Well, Kenny wants to be the champion when New Japan present their G1 Special shows in California at the start of July, but he failed to win the New Japan Cup to get a title shot and instead he had to avenge his cup defeat to Ishii before, following his victory against Bad Luck Fale, Okada finally called out Omega.
Okada nominated Omega as he felt he was the strongest potential challenger to the championship that has become synonymous with the Rainmaker, and he also pointed out that he wanted the match that the fans most wanted to see. You're damn right we want to see it! And on Sunday, we get it, so get excited.
They're surely going to go for a hell of a long time, and crazy spots will be littered throughout, just like in the first match where we had the Terminator dive, the table smash, the spinning tombstone, the moonsault over the barrier, the dragon suplex off the top, and more and more and more. These two mesh like hand in glove.
I'll say it now, if Kenny hits the One Winged Angel, he will win the title. Okada didn't get caught by it last time out so I'm almost certain that if he does this time, it's all over for the champion. It's his time, it's his moment, and I'm 99% certain that Omega is going to take it.
Predicted Winner: Kenny Omega
So that's the lot, be sure to enjoy the show and tune in on New Japan World, both English and Japanese commentary will be available on the site, which you can find here: http://njpwworld.com/