Catalans Dragons triumphed in the Million Pound Game this Saturday, as a result they survived relegation and sent Leigh Centurions crashing back down to the National League after just a single season in Super League.
Whilst the concept is highly marketable and an exciting situation on paper (a one-game shoot out to see who stays up) this season's Million Pound Game should be the last.
Many players and fellow Rugby League figures have taken a negative stance towards this weekend's massive contest. Immediately following the game on the Sky Sports live broadcast, Catalan captain Sam Moa condemned the idea.
'This isn't a concept that we enjoy to play in as players,' stated Moa, who also offered his condolences to the dejected Leigh side as many of the players' contracts will now be up-in-the-air. Not exactly the reaction one would expect from a player who's side had just secured their Super League status.
Resting the pressure of players' livelihoods, mortgage payments and jobs on a single 80 minute match is an absurd, dangerous and irresponsible action from the RFL. How can anyone be expected to perform at their best under such circumstances?
To put it simply, this cannot continue.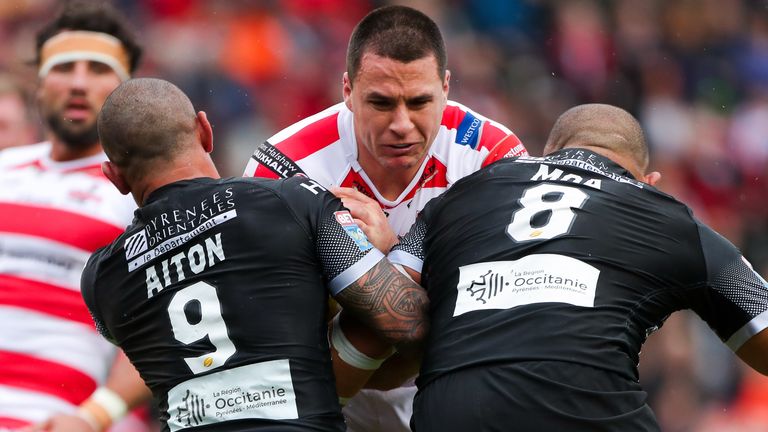 Tears from both sides
There is absolutely zero joy in watching somebody emotionally break down on national television.
Micky Higham gave the most upsetting interview I have ever seen in the sport following his side's defeat. In a river of tears and understandably unable to compose himself, he said 'I can't put it into words and feel like I've let everybody down.'
On the flipside there were tears from the French side's players too. 'There's lots of tears in the dressing room' told coach Steve McNamara, who added they were tears of relief due to the huge amount of tension and pressure surrounding the contest.
Clearly this has far more impact than a simple case of surviving relegation and can cause a great deal of emotional stress on both players and coaches alike.
A game that reduces both teams to tears is uncomfortable at best; and such tension may have been a factor as to why Leigh crumbled in the second half. They made multiple errors, gave away penalties and seemingly could not get their heads back into the game.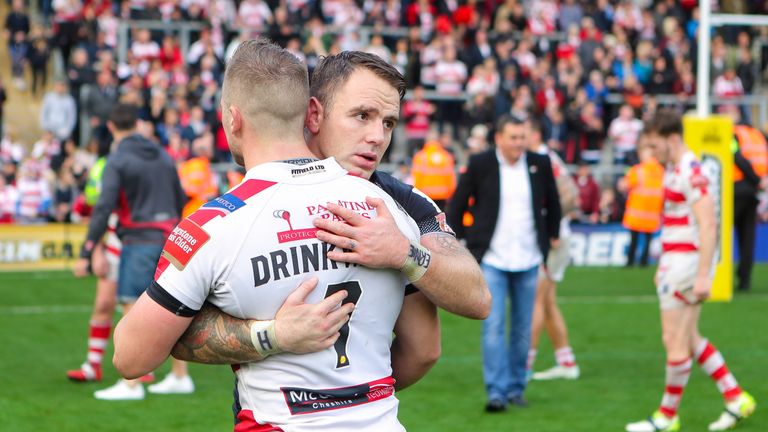 State of Mind
Rugby League's 'State of Mind' programme was introduced in 2011 following the shocking suicide of retired Great Britain international, Terry Newton.
The programme was introduced with the aim of improving the mental health of Rugby League players and ensure the wellbeing of anyone in the Rugby League community. The tagline on the rugby-league.com webpage for State of Mind is, 'working to improve the mental health, wellbeing and working life of our rugby league players and communities.'
A bit hypocritical don't you think?
Leigh head coach Neil Jukes addressed this on Saturday too, 'this is hypocritical of what we stand for' said Jukes, and when asked would he like the concept to be scrapped he responded, '100%.'
Likewise, Ben Cockayne talked about the game before his Hull KR side were relegated against Salford in 2016. He rightly spoke out against the match, stating that it was 'dangerous' to mental health as it could leave some players with the massive stress of not having a job come the Sunday morning.
How can the RFL stand by and watch these professionals fear their entire lives may be completely changed for the worst, based on a single 80-minute performance, whilst claiming to be helping to improve players' mental health?! It's a disgrace, a shambles, and has been going on for too long already.
The Numbers
The biggest of killer of men under 45, is men under 45.
Suicide at this age for males is not a main cause of death, it is the single most common cause of death in this category.
5,668 suicides were reported in Great Britain in 2016, and of this number 76% were males. However, 1 in 8 males have a reported common mental disorder, whilst 1 in 5 women have a reported CMD.
These statistics are unacceptable.
It is time to start talking about mental health in order to ensure that our peers aren't suffering in silence and instead get the help and support they deserve.
To Conclude
The Million Pound Game clearly has a negative impact on the mental wellbeing of the players and coaches involved, as expressed on Saturday. The State of Mind programme means nothing if the RFL put more stress and pressure on players than they have ever experienced before; and ultimately, nobody wants to see another Rugby League player contribute to the statistics effecting men under 45.
Game promotion and viewership is a miniscule price to pay to be sure that professionals do not have the ridiculous and harmful stress applied to them from this single, lifechanging match.
We've seen 3 years of this game and, whilst it has produced some good moments from a viewer perspective, 3 years have already been too much. Coaches and players do not enjoy the atmosphere of the concept and the potential ramifications are not worth the risk.
Now it is up to the Rugby League players, coaches, referees, owners and even fans to take a stand against the game and protect the mental health of those involved, before it becomes too late.