NJPW's latest PPV production was delivered across 3 nights in Tokyo, Hiroshima and Kobe – there was a ton of matches across the trio of shows but I'm going to focus solely on the most important and most impressive matches. Overall, people seemed indifferent with the showings and wanted more from the productions overall, but here's a rundown on what I thought of a bunch of the bouts.
Night 1 – Destruction in Tokyo
NEVER Openweight Championship Match – Katsuyori Shibata (C) versus Bobby Fish
The always-excellent Shibata was cleared at the last minute for his title defence against Bobby fish on the opening night as he is currently suffering from thoracic spine deterioration. Obviously this is very serious and he has since been pulled from the other Destruction nights in order to allow him time to heal. Right now, it would likely be best for him to take some extended time off in order to return stronger than ever towards the end of the year when the NOAH versus New Japan story looks set to explode.
That said, he competed against Mr. Fish and successfully defended his NEVER Openweight Championship for the second time since regaining the belt at Dominion. Likely due to Shibata's injury they worked a slower, submission based match which I really enjoyed; the pair both tried to outsmart one another with their mat wrestling in order to lock in a hold. Despite this there were still some stiff strikes from both as they each showed their toughness to the crowd, a couple of dirty suplexes and a headbutt that landed with an earth-shattering thud.
In the end, after both men showed so much fire and intensity, Shibata won the dramatic contest after slapping on the sleeper and blasting Bobby with the PK Kick, which is one of my favourite finishers right now. After the pinfall, Fish's ReDRagon teammate Kyle O'Reilly hit the ring and a match against the champion looks set to take place if Shibata is healthy enough. If it goes ahead I see no reason why this wouldn't be a fantastic face-off; Shibata has been one of the best in New Japan for some time now, and O'Reilly is really breaking boundaries and showing his is something special, here's hoping we get that one.
IWGP Junior Heavyweight Championship Match – KUSHISA (C) versus BUSHI
Based on their tremendous match at New Beginning back in February this year, I had really high hopes coming into this main event. In reality however, whilst this was by no means a bad match, it wasn't a particularly good one either – it was messy and the timing of events seemed rather off and considering that this something that New Japan usually nail, it was a very strange watch.
Before anything began a new mystery member of LIDJ (Los Ingobernables de Japon) walked out donning a mask, who that will be remains to be seen but it's a very interesting prospect moving forward. BUSHI and KUSHIDA entered afterwards and the match began with the LIDJ junior using as many dirty tactics as he could to get on top; he threw KUSHIDA into barricades, used a chair, choked his foe with his T-shirt and topped it all off with his own variation of Naito's pose, it really started off strongly.
Then the madness began to ensue. During a KUSHIDA comeback the referee was knocked down meaning BUSHI could shoot the black mist and Naito could saunter down to the ring to help put the boots to the champion – Michael Elgin limped in to make the save and chucked Naito to the back, saving KUSHIDA's skin. Timing for this disruption seemed far too early and somewhat unnecessary as there was still a lot of the match to go.
The two traded moves until KUSHIDA finally sunk in his Hoverboard Lock and somehow BUSHI escaped before rallying and nailing the title holder with a Canadian Destroyer followed by 2 of his MX finishers to take the belt! I for one was rather surprised by the result, especially given that the win was pretty much clean due to the interference coming so early on. Score one for Ingobernables then as the night ended with BUSHI spitting mist onto the belt and posing for the cameras.
Night 2 – Destruction in Hiroshima
IWGP Heavyweight Tag Team Championship Match – The Briscoes (C) versus The Young Bucks
Will they, won't they? That is the question that New Japan fans are asking in regards to the unification of the tag belts. Whilst this match looked to be a step in the direction of combination, The Briscoes overcome their junior challengers and the belts for now, seem destined to remain separate. With their titles not being on the line I can understand why The Bucks didn't win this match but I really thought, at least for a little while, one team would hold both belts given the thinness of the 2 divisions.
The battle of the brothers had a very clear story; the Briscoes, as heavyweights, were the more powerful of the teams whilst the Bucks, as juniors, needed to use their superior high flying and speed to get ahead. After a bunch of nearfalls from both and Matt and Nick almost getting the pinfall after a More Bang for Your Buck the Briscoe brothers, in their fancy pants, retained their titles thanks to a Doomsday Device. We've seen these guys have better matches in the past but this was still a fun contest and had me popping for all the big moves.
The Bucks weren't hurt by the loss but I would have liked to see them win just to have a new direction for the suffering tag belts. Instead what we look to be getting is another Guerrillas of Destiny title shot as they surprise attacked the winners during their celebrations – talk about one step forward, two steps back – I really don't want them to have the championships again, one reign was bad enough.
ROH Heavyweight Championship Match – Adam Cole (C) versus Will Ospreay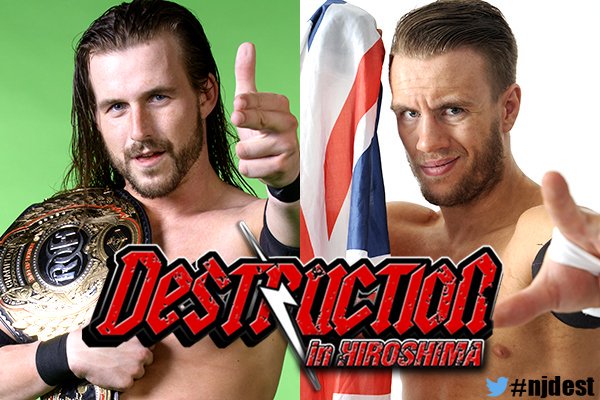 Adam Cole's first big solo appearance in New Japan involved him defending his ROH belt against one of the most promising pro-wrestlers on the planet, Will Ospreay. The twosome looked very excited and happy to be participating in such a match and, whilst both are capable of so much more, it was enjoyable and a solid introduction for Cole as he knocked off a current NJPW favourite.
Cole made sure to get his signature 'BAYBAY' catchphrase over to the Japanese crowd and got a decent reaction given how early it is in tenure there. Ospreay didn't seem to be going quite as hard as we have seen throughout 2016 but that is likely due to his injuries mounting up, so taking things a bit easier for B-level shows is welcomed. That said, the pair still hit a bunch of exciting moves that got the fans into it, Ospreay also peaked their interest by taking the piss out of Cole's chants and taunts. I was pleasantly surprised by how much offence the Englishman landed as I expected a more dominant Cole performance, but in the end, we got the obvious victory for Cole via the Panama Sunrise and a crazy brainbuster to the knee.
A clean and clear win for the champion was a good way of fully introducing him into New Japan and the loss shouldn't stunt Ospreay's momentum – I feel like Cole will become a massive deal over there, much like fellow ROH pro Michael Elgin has done before him. Hopefully we get a rematch of this sometime down the line as we know they could have a barnstormer if given the time and the right slot on the card. I also believe this is just the beginning for Ospreay and the ROH title as I'm almost certain he will win it in his career if he does not end up moving to NXT/WWE anytime soon.
Tokyo Dome Contract Match – Kenny Omega (C) versus YOSHI-HASHI
Other than for the sweet banter of Okada versus HASHI main eventing Wrestle Kingdom 11, the rising CHAOS man was never going to take the highly-sought-after title shot away from Kenny Omega. Despite that though (and I can't believe I'm saying this about a YOSHI-HASHI match) I was very excited for this show-closing contest. Their face-off at the G1 was probably my favourite solo YOSHI match but this 25-minute stonker in Hiroshima definitely topped it in my books.
Omega started with a slower, more methodical pace than in their last match as, though he knew he had the beating of his foe, the surprise win for HASHI in the G1 would have been playing on his mind. He worked over HASHI with powerful strikes and, with the assistance of the Bucks on the outside, took full control of proceedings until an eventual and impressive comeback from the challenger. It's great to see how much more captivating HASHI is now, he's really improved over the summer period and is smooth as butter – that Head Hunter (front flip neckbreaker) is a thing of sheer beauty.
After the slow start and the comeback things really heated up and the ending sequence included a plethora of nearfalls and the trading of brutal strikes. Eventually Kenny hit the V-Trigger knee strike and the One-Winged Angel to kill off his courageous challenger; HASHI looked so bloody good during this one and Kenny has another top-drawer match to add to his collection. I really, really got into this main event and am so pleased with the direction that New Japan seem to be going with both men, onwards and upwards for them!
Following the bell, Goto, who was supporting his CHAOS brethren throughout, entered the ring and pointed towards Kenny; Omega responded by cutting a promo on Hirooki and told him, and the audience, they can Go-to hell. Many expected Shibata to be the man to get this challenge for the Tokyo Dome spot but given his injuries it's safe to assume the Goto has been shoehorned in as his replacement for now. Reaction for this has been mixed but personally I'm all for it given that their last clash on the final day of the G1 was easily one of my favourite matches of the year.
Night 3 – Destruction in Kobe
NEVER 6-Man Tag Team Championship Match – Satoshi Kojima, Ricochet and David Finlay versus Adam Cole, Matt Jackson and Nick Jackson
Matt Sydal, teammate of Ricochet, was taken off the show due to 'travel issues' but rumours all seem to point towards him being finished with New Japan, reasons as to why remain unclear but it is concerning news if he doesn't have another big contract lined up. His replacement was young lion David Finlay, who has been growing in stature at a rapid rate due to his impressive work in the opening matches and in the Super Juniors tournament. It's brilliant to see him get such a big opportunity early on in his career and he will learn so much by working with Kojima and Ricochet.
These belts have been tossed around like a game of pass-the-parcel so far but this match was exactly what I want to see for the straps moving forward, it was super-entertaining. All 6 guys looked great throughout and everyone got some cool spots and offence in; I loved Kojima's triple chops in the corner and Ricochet hitting a mesmerising springboard cutter to prevent the Meltzer Driver. There was also a really funny spot where each Bullet Club guy would come in and shout 'Brainbuster!' before trying to hit it on Finlay, all 3 would then fail before Kojima and Ricochet hit the ring and the faces hit a trio of stereo suplexes.
Ricochet scored the eventual pin for his team with his always lovely Shooting Star Press, making Kojima (who looks revitalised working with the two younger stars) Ricochet and Finlay the champions. Post-match Finlay got on the mic and laid a challenge down from him and Ricochet to the Bucks, pretty much cementing his position as Sydal's long-term replacement – that collision should be really fun and I wouldn't be surprised if we see Kojima versus Cole for his ROH belt too. Overall, this was all fantastic.
IWGP Intercontinental Championship Match – Michael Elgin (C) versus Tetsuya Naito
So we arrive at the final main event of the 3 days and it was bloody brilliant. Really bloody brilliant, in fact. Both men have been churning out amazing matches already this year with their clashes against Kenny Omega being the highlight for both, so we knew beforehand that we were bound for something extra special here; especially given that Elgin is insanely over with the Japanese crowd and Los Ingobernables have been the best thing in wrestling this year.
Power from Elgin was constantly opposed by Naito's intelligent targeting of the knee as he looked to end the match with his kneebar finishers on a couple of occasions. A series of dropkicks, including a missile one and one to the barrier, really wore down the champion's foundations and reduced his ability to capitalise on situations after he nailed huge powerful moves. Elgin landed Germans, a falcon arrow and a powerbomb but failed to take the impetus as he missed a thunderous top rope splash, Naito would then come back with ranas before Elgin managed to again stabilise with the DVD to the apron and a highly impressive deadlift second rope falcon arrow!
The referee took a bump and Naito's band of merry men invaded the ring to beat on Elgin before Tanahashi and KUSHIDA tried to make the same before getting their asses handed to them. In the end Elgin essentially fought SANADA, EVIL and BUSHI off by himself, disposing the trio to the outside with a double fallaway slam and powerbomb combo. Into the final furlong of the show, Naito landed a Destino but only managed a 2-count before Elgin reversed a second attempt into a smooth side slam. The buckle bomb was delivered but the Elgin Bomb was countered into a pair of Destinos and Naito grabs the Intercontinental Championship in a stellar match! What a spectacle!
Post-match Naito did his usual awesome rally on the mic and stood tall with his Ingobernables teammates, his triple-crown trophy and the IWGP Intercontinental Championship. Elgin looked super strong for the entire fight and the fans may get even more into him given the fact that the win was pretty dirty due to the interference. We look all set for Wrestle Kingdom now then, as Naito versus Tanahashi will likely co-main or even main event if they win a fan vote – New Japan is in great shape and I cannot wait for the next PPV, Kings of Pro-Wrestling, which takes place next month.